Seamouth Saxophone
Novel, England, Dignified dying, society
On the East Devon coast there's a weird idea to promote assisted dying and 'rescue' potential suicides. It takes unusual people to make steps forward in society. A community becomes civilised and the Country follows.
Highly creative odd-balls can create a future. Those that think differently can build a different future.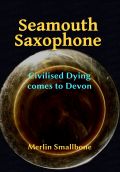 This speculates about a contemporary plan to promote civilised dying. There's nothing about the patients, this is about the people in the front-line of care and the community that supports them doing a very delicate and stressful job. Obviously there are legal and 'moral' battles that need to be fought. What sort of tough-nuts come together in a team to deal with that? What's the appropriate approach to waifs who want to 'jump off the cliff'?
It should become clear that society itself needs to become civilised as well. The community of a small town on the Devon Coast is an example to us all. April 30th is neighbour day — So how does that work?
The subject for this book is deep and controversial. I've approached it in two ways:
Civilised society is possible
Individuals can make a difference
Of course, the sharp edges are the two very distinct aspects of:
Assisting terminally ill
'Mending' potential suicides if possible
| | | |
| --- | --- | --- |
| Beginning | A5 PDF | Free |
| Beginning | 2-Col PDF | Free |
| Paperback | A5 298 pages | £8.50 |
| Full ebook | A5 PDF | £3.00 |
| Full ebook | 2-column PDF | £3.00 |