Anthology, Short stories
This is my first short story collection. I'm still proud of it. A varied collection of sixteen heavyweight and lightweight short stories written for fun but sometimes the subjects get quite serious. Be amused when a fuddy-duddy gent gets a make-over in an English shop and meets amongst others the dreaded Malaprop!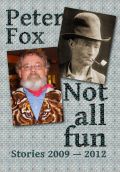 There are two essays on tableaux and how the girl's heroic story differs from the boy-goes-on-adventure monomyth. The first is important because the art of using symbols in writing has been obliterated by narrative. The second is important because Hollywood (etc.) demand 'going on an adventure' type of story-arc but girls do their heroics completely differently. A male hero can do it the girl's way (eg. Captain Mainwaring) but assumptions about heroics need questioning.
| | | |
| --- | --- | --- |
| Extracts | A5 PDF | Free |
| Extracts | 2-Col PDF | Free |
| Paperback | A5 126 pages | £5.50 |
| Full ebook | A5 PDF | £3.00 |
| Full ebook | 2-column PDF | £3.00 |